Canterbury University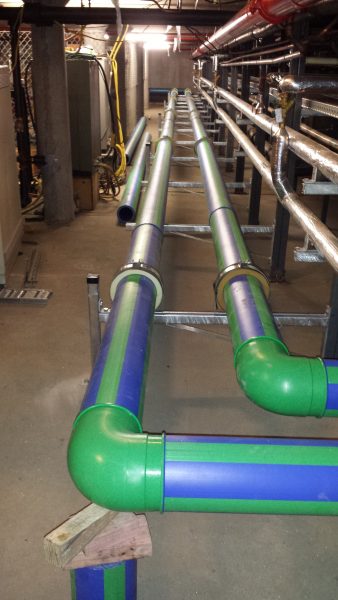 Canterbury University are in the process of undergoing a $1.2 billion facilities upgrade after the 2011 earthquake.  Currently aquatherm are supplying PPR Blue pipe in sizes up to 250mm for heating and cooling, PPR Lilac pipe for reclaimed water up to 125mm and  PPR hot and cold domestic water pipe for showers, toilet blocks and kitchen areas in sizes up to 125mm.
aquatherm are currently involved in refurbishing the History, Law, Registry and Erskin buildings as well as numerous small plumbing and heating jobs around the University.  Recently the Rutherford building had its chilled water pipework altered using aquatherm Blue pipe, SDR7.4 where it was attached to an outside heat pump/air handler. This was a tricky installation because the pipe was installed in the basement area, through load bearing walls which acted as expansion points and out through an outside wall, time was a major factor in choosing PPR pipe, as it was easy to join together using Buttfusion and flanged to existing valve sets, Benmax were the installation contractor and completed the project within the allotted time frame.
In addition to Benmax installing aquatherm PPR pipe at the University, Foleys Christchurch operation have been working on the History and Registry buildings on plumbing and reclaimed water,  Geary and May of Christchurch have been working on the Law building for plumbing, AHI/Carrier from Christchurch are currently on the Erskin building but have been involved on numerous sites around the University working on heating and cooling projects.
Hawkins are the main contractor on site and this is just part of the total rebuild.

We have committed ourselves above and beyond the legal requirements to maintain and protect the delicate balance of our immediate environment. From production to installation to recycling, our systems are designed to impact the environment as little as possible.