Awly Building, Christchurch
24 Aug 2016
Posted in: aquatherm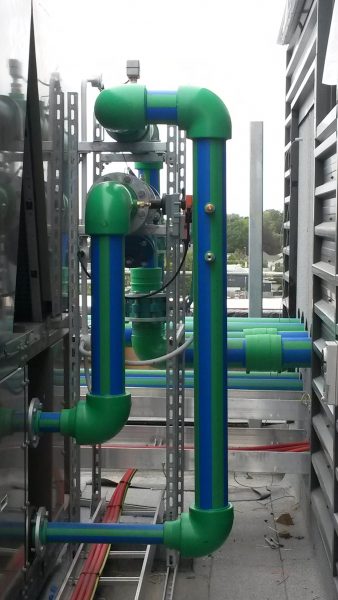 The Awly Building, situated at 287 – 293 Durham Street, Christchurch, has benefited from aquatherm piping.
It has the first five Green Star Design rating in post-earthquake Christchurch, designed by Green Star professionals Ben Masters and Alan Barbour of Beca.
It boasts three interconnecting buildings, five storeys high on a 4,068M2 site giving 17,000M2 of retail and office space.
Mechanical PP-R pipe work using aquatherm MF blue pipe in sizes 20mm up to 200mm, a four pipe system for heating and cooling to a highly efficient flexible air conditioning system that uses energy saving EC fan coils on all five floors. Socket fusion design up to 125mm then butt welded pipe 160mm and 200mm.
The potable water is supplied from aquatherm PP-R green pipe S for cold water supply in sizes 20mm up to 125mm and the hot water supply was from aquatherm green pipe MF in sizes 20mm up to 63mm. An all socket fusion welded system guaranteed permanent fusion of the pipe and fitting, giving a lifelong, trouble free and maintenance free pipe system.
Architect: Warren and Mahoney
Mechanical and Hydraulic Design: Beca
Mechanical Installation: Airtech of Christchurch
Hydraulic Installation: Advantage Plumbing Queenstown / Christchurch