Ashburton Pool and Sports Facility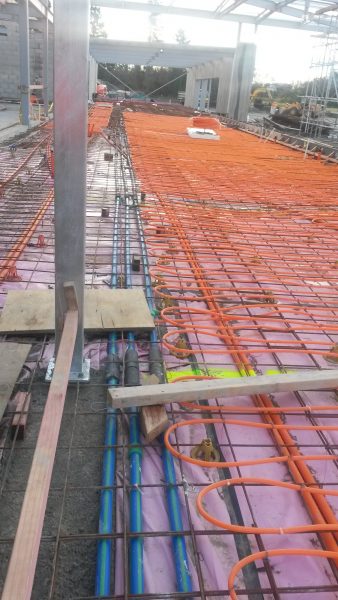 The EA Networks Centre will provide a first class indoor swimming and sports facility for the Ashburton district.  Located off River Terrace and close to downtown Ashburton, the facility is centrally located to maximise accessibility and use.
The indoor aquatic centre features a ten lane 25m competition pool, leisure pool, warm water learn to swim pool and a warm water programme pool.
The indoor stadium features four competition sized courts, spectator seating, a fitness centre and a sports house providing administration space for local sports organisations.
Award-winning Canterbury architects Warren and Mahoney have designed a facility that both meets the community's needs and reflects the district in its stylistic cues.
Mechanical pipe work ranges in size up to 200mm diameter; aquatherm blue is installed in these applications, due to PPR-C having excellent chemical resistance to chlorinated heated pool water.
aquatherm orange (underfloor heating pipe) was used in the atrium and changing rooms to give a warm feel when entering the facility and when you change into your togs.
The plumbing is sized up to 125mm diameter, and in this environment, aquatherm green handles chlorine in the atmosphere better than metallic pipe systems especially over a 50 year period that is required.
Mechanical Service Consultants on the project were Powell Fenwick Limited of Christchurch and David Browne Limited of Christchurch installed the plumbing and mechanical pipe work on site.
Construction firm Naylor Love is leading the building of the facility, with a projected opening date of mid-2015.
The EA Networks Centre has been designed with the ability to add a hydro slide leisure attraction to the aquatic centre if required in the future.