Wiri Prison
Triangle Fire Protection, a well known industry leader in fire protection and sprinkler installations in Auckland, is the design and build fire protection contractor on the new Wiri Mens Prison now under construction in South Auckland.
Triangle Fire Protection are part of SecureFuture – the consortium set up to deliver the public private partnership (PPP) corrections facility due for handover in December 2014. Project build value of approx $300m.
Aquatherm red pipe (Firestop) is being installed for the sprinkler ranges in the cell blocks, as previously installed by Triangle at the Mt Eden prison redevelopment by Fletchers some years ago.
Pictured here is Henare Manuel and Brandon McGrath from Advanced Sprinkler Installations preassembling all the sprinkler pipes, one of the features of our system, for direct attachment inside precast concrete floors, and in some cases tied to the mesh and cast in situ into the concrete. This is a unique feature of the product and is used extensively in this manner in Europe.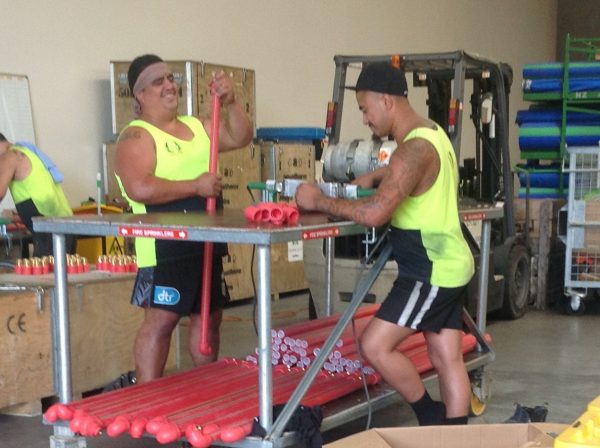 We have committed ourselves above and beyond the legal requirements to maintain and protect the delicate balance of our immediate environment. From production to installation to recycling, our systems are designed to impact the environment as little as possible.